Test every way, and everywhere
Wherever, and however the INOS testing is undertaken, there is no need for a qualified engineer to be with the kit – scripts are updated securely over the air, and data is automatically uploaded, live, into the cloud.
The INOS kit can be deployed in static mode, for active measurement in-building
Or dynamic mode: as a backpack for easy transportation on foot in-building, or along narrow twisty streets in town on foot, bicycle or moped.
Or, more traditionally, in a box with up to 24 devices for drive testing.

Extensive handset support
We use 2G-5G Android Qualcomm handsets, and support multi-vendor 5G chipsets (Huawei, Samsung and Qualcomm flagship mobiles).
Fast reports plus real-time viewing
INOS uses automated post-processing and AI analysis to assess all data and generate customisable dashboards, prioritised recommendations, KPI analysis and branded reports within 15 minutes.
Data is collected in real-time – network changes can be made and retested immediately.
Realtime alarms enable field issues to be identified immediately. Automated, customisable reports can be geo-fenced and time-limited.

Accurate, fully automated robotic post-processing
Investigative Drive Testing (DT), with automated reporting within 15 minutes
Single Site Verification (SSV)
Benchmarking (BM) between different operators, or within the same operator before and after specific tests. Valuable for telecom operators, CSPs, MVNOs and Regulators.
In Building Solution (IBS): indoor testing, typically for office buildings and shopping malls, including 5G and Private Network technologies
Field optimisation: analysis of current metrics to support performance optimisation strategies, problem identification and resolution, network design, optimisation of growing networks to meet customer demands
Active probing & customer complaints (CC) handling, including VIP
OpenRAN functionality support: end-to-end from radio through to interoperability testing between OpenRAN and Legacy RAN, across levels 1-3, and identification of actions required to remove discrepancies
End-to-end Internet of Things (IIoT & IoT)testing, including deep layer analysis, LTE, Cat 1, NB1 and NB2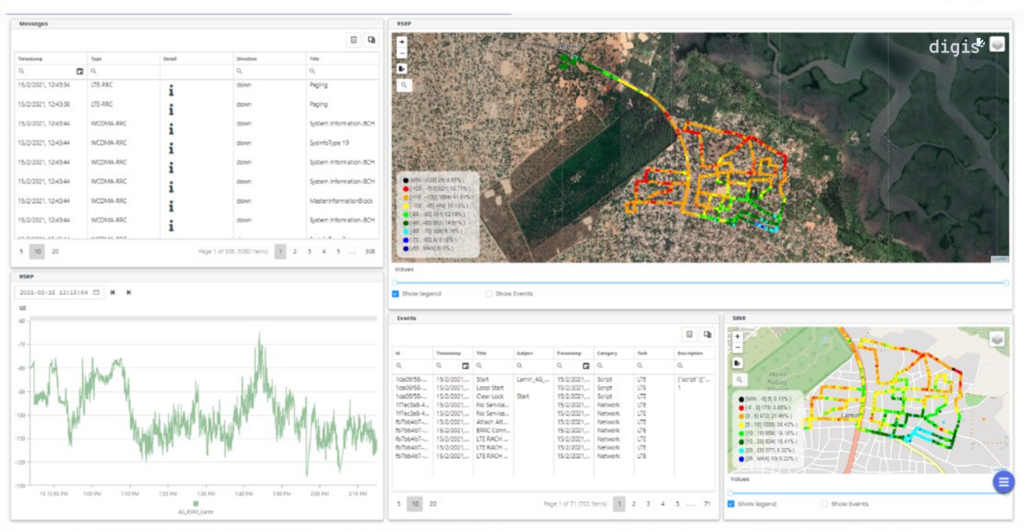 Analysis, reports and optimisation for every network technology
Vendor agnostic
Multi-network technology: 2G, 3G, 4G, LTE (including LTE 450MHz, and LTE 600MHz), 5G, Open RAN and Private Networks. See also,
Voice (MOS for CS voice including POLQA, and VoLTE)
Video (PEVQs supported)
Data: 2G, to 5G and OpenRAN for DL/UL, streaming, OTT, ping and video (PEVQs supported)
OTT apps: measure and analyse E2E real-user experience (Facebook, Instagram, Twitter, WhatsApp, YouTube etc)
IP performance: jitter, delay etc
IoT: radio functionality, radio quality, E2E functionality across CAT-M, NB-IoT 1, and NB-IoT 2
Deep-layer analysis L3/L2/L1, and TCP/IP layer
Add-on, time-saving modules
POLQA score prediction
Network fragility index
Coverage anomaly detection
INOS network health score
Flexible deployment options
The INOS platform can be deployed on-premise, or in the public or private cloud.
INOS & Intel