Insights & Events
Technologies
E2E radio services ◦ Now more than ever, use independent expertise to manage your multi-technology, multi-vendor networks
E2E radio services: now more than ever, use our independent expertise to manage your multi-technology, multi-vendor networks.
Ensuring telecom network infrastructure is managed efficiently is complex – highly interconnected globally, expensive infrastructure with a large base of legacy systems and technologies, combined with multiple vendors and interoperability concerns, plus demanding customers expectations.
Managing the complex commercial and technical issues of E2E Radio Services should not be under-estimated.
With the rollout of 5G, and growth in IoT deployments, additional stress is added to the operational teams as they grapple to gain the knowledge needed to successfully optimise and manage the new capabilities, and evolving commercial expectations.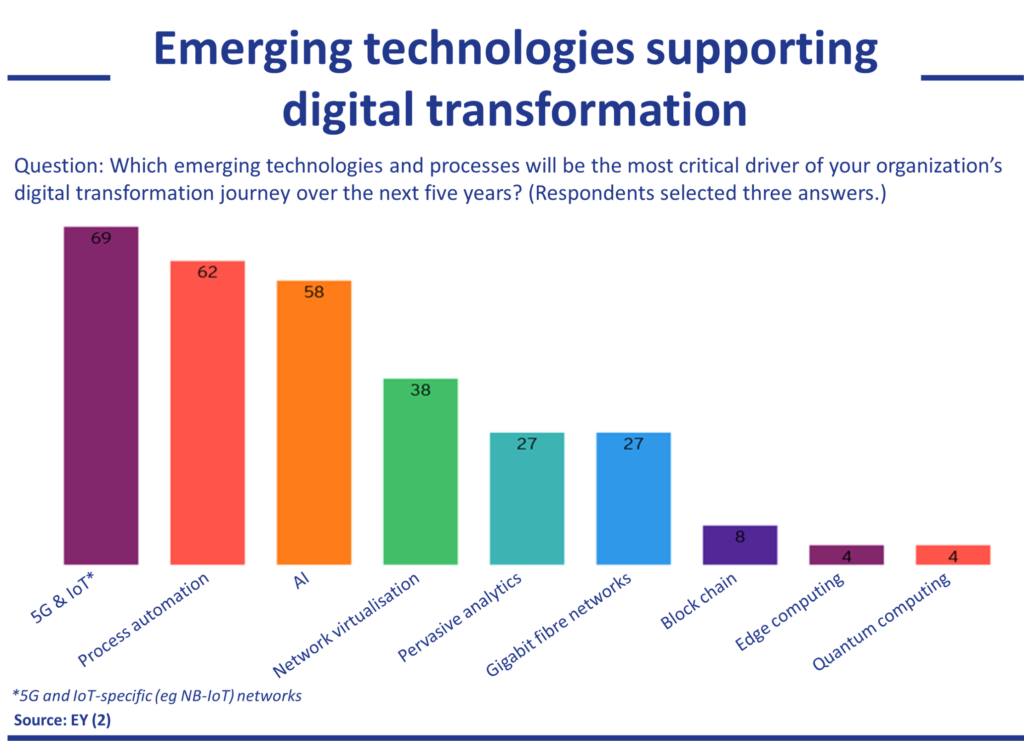 This growth in operational demands, in combination with the extra strain on communications systems created by COVID-19 globally, means that even more efficient methods of delivering end to end radio services are needed.
"Operators will need to consider new ways of generating capex efficiency as they strive to meet growing demand for high-speed and low-latency data services."

Source: EY (1)
Competency development
With so much change occurring simultaneously, as well as high operational demands, finding the time to invest and deliver training is difficult but vital. At Digis Squared our teams understand this, and have developed training solutions which can be delivered remotely, or on-site when social distancing and travel permits.
We ensure MNO staff-readiness for the future, and emergencies, as well as developing their capabilities to robustly address today's demands.
"Missing skills, poor data quality and a lack of long-range planning are holding back the transformation agenda."

Source: EY (2)
Independent expertise
As a flexible and experienced independent partner, we help service providers fill in the gaps in their end to end radio services capabilities – whether that's through providing resources to address short-term skills gaps, strategy advice, new analysis tools, innovative solutions, or bespoke competency development, we are there when we are needed, providing expertise across the entire network lifecycle: R&D, strategy, planning, integration, in-field, optimisation & benchmarking, operations & support, customer care.
Relentlessly focussed consulting
In a multi-vendor, multi-technology field, ensuring interoperability and identifying areas of improvement is complex – our team is independent, business-aligned and relentlessly focused on realizing the value of your network. Digis Squared consulting services steer you towards the networks of tomorrow, anticipating changing commercial, technical, regulatory and customer demands, and developing detailed strategies and plans to ensure your business can address them.
"5G will play a critical role in the digital economy for decades to come. This new era of intelligent connectivity offers the chance to recast customer value propositions, accelerate industrial transformation, and reinvigorate the digital society."

Source: EY (2)
RAN solutions
Our services scale to help our customers manage increases in network complexity, and growth of network traffic effectively and efficiently. We provide the expertise necessary to support your network transformation goals, with our multi-vendor and multi-technology capabilities, our services adapt to meet the emerging needs of your network.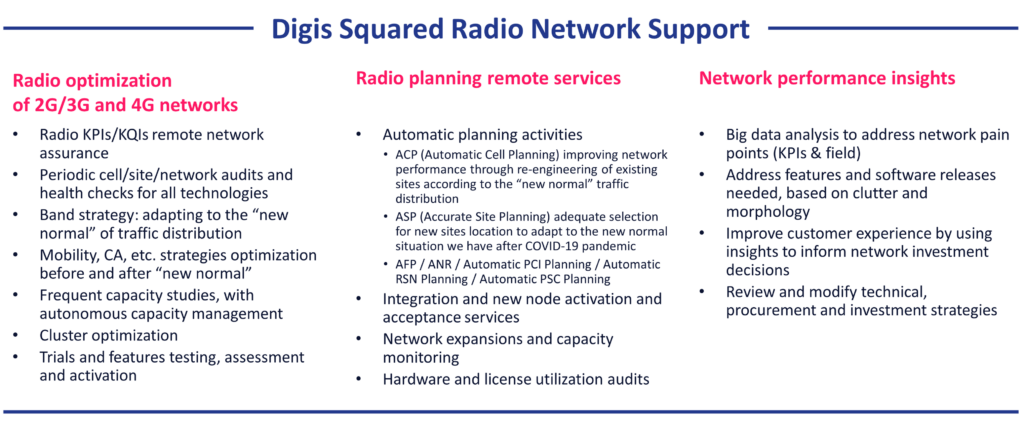 Innovation
We leverage state-of-the-art techniques to help service providers to design, deploy and operate the latest network technologies, so that they can provide the new services subscribers want, while ensuring network quality remains high, E2E radio services are optimised and operating margins respectable.
5G: our teams accelerate the transformation of mobile networks, enabling new services, new applications & even new industries. Digis Squared provides end to end support for service providers to deploy their 5G networks, starting with planning support, and extending to 5G network optimization
Automation & software solutions: Automation is key to ensuring operational efficiency as network complexity increases. The Digis Squared RAI solution delivers powerful integrated capabilities, using AI & ML, providing network insights, configuration management and performance monitoring processes, and energy saving. We build tailored automation solutions for MNOs, to help them address any challenge.
IoT: The driving force of digital transformation, IoT has complex technology requirements, including a cascade network architecture consisting of massive number of devices, and each design has a different design objective. Optimizing the network and delivering the required capacity and coverage for each IoT use case are challenging tasks for IoT implementations, and our solutions address them.
Drive-less tuning: Minimizing drive test (DT) efforts, our INOS solution automates all reporting types i.e. SSV, customer complaints and cluster benchmarking. Robotic post-processing capabilities help MNOs to speed up logfiles analysis, as well as resolving field problems.
In a world of technical and commercial complexity, seeking an independent experienced voice to guide your teams, and extra resources when you need them, will help ensure that your E2E Radio Services are fully optimised and able to handle new technology from new vendors.
Now more than ever, use independent E2E radio expertise to manage your multi-technology, multi-vendor networks.
Keep up to speed with company updates, product launches and our quarterly newsletter, sign up here.

Image credit: James Padolsey