Insights & Events
Technologies
5G ◦ Why is it so complex to deploy?
In conversation with Digis Squared CTO Abdulrahman Fady, we explore some of the complexities and opportunities.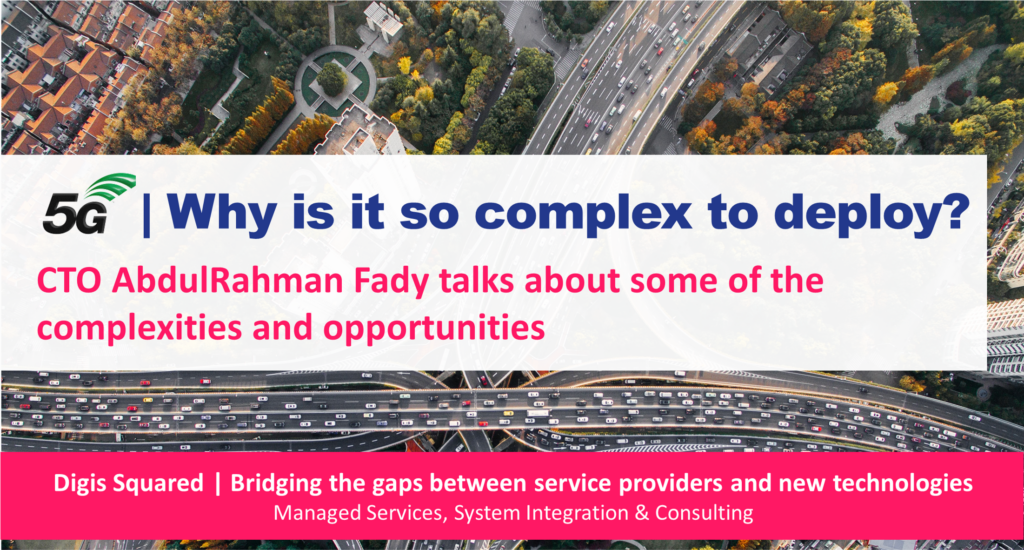 In conversation with Digis Squared CTO AbdulRahman Fady, we explore some of the complexities and opportunities.
5G is a hot topic, with new handsets coming to market, and networks expanding globally. Abdulrahman Fady, CTO at Digis Squared, has worked in the technology sector for more than 20 years, and in this blog post he shares his views on how the deployment of this latest generation of telecom technologies will bring new problems to solve, and new opportunities to grasp.
So please share with us Abdulrahman, why is 5G so complex to deploy?
"By 2025, 5G networks are likely to cover one-third of the world's population."

Source: GSMA [1]
5G rollout, complexity and issues
"Everyone is talking about 5G and how important it is for the ICT industry. Deploying 5G will change and benefit our societies, however, to deliver the real benefits of 5G a lot of challenges need to be addressed, starting with infrastructure and security, and expanding across all spheres into people culture and anthropology, and far from the expertise and competencies of the average ICT engineer."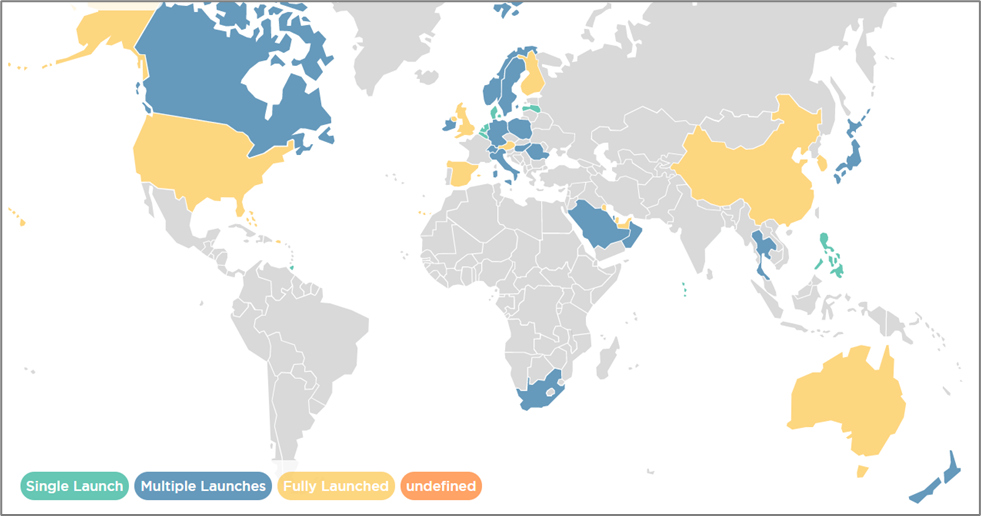 "I don't think this will be an easy journey! It will be a really tough but exciting journey, where people have to learn how to implement adequate automation and AI techniques to make use of the data 5G delivers – it simply won't be possible to assess the volume of data without AI. Technically, I believe there will be a strong competition between legacy RAN vendors and O-RAN vendors as they compete for market leadership – this will deliver benefits for operators and CSPs, and drive innovation and identification of new efficiencies."
5G & IoT: "many of its technical capabilities have been designed with Industry 4.0 applications in mind:

Ultra-Reliable Low Latency Communication (URLLC) is vital for real-time communications between machines
Greater bandwidth and support for higher device density enables use cases that generate more data traffic and host a greater number of devices or sensors
Network slicing allows virtual separation of networks, enhancing security and reliability
Mobile Edge Computing allows critical network functionality to be retained at the edge, further enhancing resilience and operational continuity"

Source: GSMA [2]
"In the field of IIoT and C-IoT, I think there will be a lot of new ideas generated as nerds and ICT people get their hands on 5G tech. As these different approaches come together – the nerds exploring what the new tech and new devices can do, and ICT staff searching for solutions to address specific issues – they will bounce ideas of each other, and there will be real energy and dynamism as they race to bring new innovations to market."
"5G will be a huge opportunity for the big cloud providers like Amazon, Google and Microsoft to change the way MNOs work, delivering massive real-time analysis capability, new opportunities for collaborative international teams to work together, system resilience and efficiency."
"However, it's not all good news! I think 5G security will be a showstopper in many countries, limiting the deployment of all its functions in some places. These issues will in turn bring great opportunities for third parties and SIs to play a far bigger role in the ICT ecosystem."
The biggest issue
"But do you want to know the biggest issue I see? The number one challenge limiting 5G spreading swiftly worldwide, and blocking the real benefits of 5G deployments, is the complexity of handsets, the UEs and terminals."
MIMO (Multiple Input Multiple Output) "MIMO has been used in wireless communications for a long time now — it's common for both mobile devices and networks to have multiple antennas to enhance connectivity and offer better speeds and user experiences. MIMO algorithms come into play to control how data maps into antennas and where to focus energy in space. Both network and mobile devices need to have tight coordination among each other to make MIMO work."

Source: Qualcomm [3]
5G uses Massive MIMO and expands on the existing MIMO systems, by adding a much higher number of antennas on the base station – this helps focus energy, which brings massive improvements in throughput and efficiency. As well as all the additional antennas, both the network and mobile devices implement more complex designs to coordinate MIMO operations.
5G utilises different parts of the radio spectrum to deliver performance, capacity and coverage
mmWave spectrum: best for dense urban areas and crowded indoor environments. Doesn't travel very far, so an array of antennas is used for beamforming, which concentrates the radio energy to extend the range.
sub-6 GHz spectrum: best for broad 5G coverage and capacity with faster, more uniform data rates both outdoors and indoors for more users, simultaneously.
"5G handsets are super-sophisticated: they need to support Massive MIMO techniques, along with beamforming, sub-6GHZ bands, and mmWave for mobile. Designing all of this to work together is putting real pressure on antenna and RF designs – and then the ultimate challenge, physically fitting all of this into a beautiful handset design!"
"And if that's not complex enough, we all expect our mobile devices to have incredibly efficient batteries, and yet remain small and lightweight, and deliver performance enhancements across 4G, 3G and GSM. You need very strong modems and processors deployed inside 5G handsets – and all of this in addition to the complexity 5G adds to software, OS and Kernel layers. That's why it is not an easy job to deliver high-end 5G handsets!"
Opportunity
"There are many challenges, opportunities and battles to come as 5G rollout continues, and it will also create real opportunities and big returns if you have positioned yourself and your company right within the ecosystem."
If you would like to learn more about how the Digis Squared team can help you with 5G strategy, deployment or optimisation, please use this link or email sales@DigisSquared.com to arrange an informal chat.
Keep up to speed with company updates, product launches and our quarterly newsletter, sign up here.
Digis Squared, independent telecoms expertise.
C-IoT: Consumer Internet of Things (typically, consumer devices and applications in the consumer electronics space such as smartwatches or smart thermostats)
CSP: Communications Service Providers
ICT: Information and communications technology
IIoT: Industrial Internet of Things (interconnected sensors, instruments, and other devices networked together with computers' industrial applications, including manufacturing and energy management)
Massive MIMO: a set of multiple-input and multiple-output technologies for multipath wireless communication, in which multiple users or terminals, each radioing over one or more antennas, communicate with one another.
O-RAN: Open RAN – via standardised radio interfaces and interoperability, hardware and software components from multiple vendors operate over network interfaces that are "open and interoperable"
SIs: System Integrators
URLLC: Ultra-Reliable Low Latency Communication