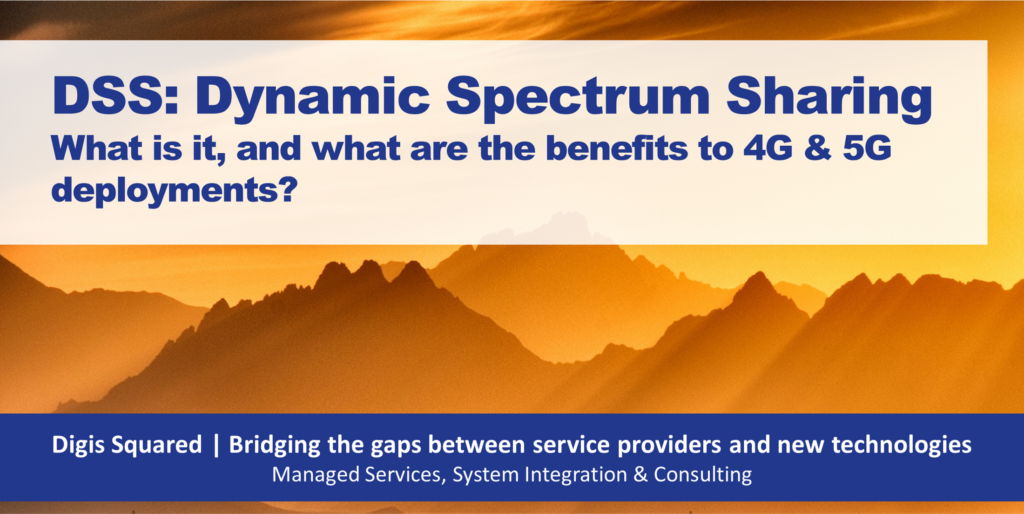 Amr Ashraf, RAN and Software Solution Architect at Digis Squared, describes this new network technology, enabling LTE and 5G to be used in tandem, in the same frequency band, for the first time. Amr shares his insights into DSS, the benefits to both 4G LTE and 5G NR deployments, and the disadvantages.
The background: what is Dynamic Spectrum Sharing?
"Dynamic Spectrum Sharing, DSS, is a new network technology that enables LTE and 5G to be used in tandem, in the same frequency band, for the first time. The DSS technology decides in real-time the need for 5G and LTE; the network then separates the available spectrum and dynamically determines which mobile communications system to preferentially use the available frequencies."
"Let's imagine a network operator, without DSS, that has 20 MHz of mid-band spectrum for both 4G and 5G – they would have to split that spectrum in two to launch both technologies to their customers. In other words, they would have to allocate 10 MHz of spectrum to 4G LTE and cram all their LTE users into that 10 MHz of spectrum. Then the remaining 10 MHz of AWS spectrum could be used for 5G, even though initially there will only be a minimal number of 5G users. Now let's consider their approach if they do have DSS: now the operator doesn't have to split that mid-band spectrum or have a dedicated spectrum for either 4G LTE or 5G; instead, they can share that 20 MHz of spectrum between the two technologies."
"So how is this experienced by the end-user? Let's imagine you are surfing with a 5G device, and you're connected to the mobile network via a transmitter equipped with this DSS technology; in this case you'll be connected via 5G, surfing within the 5G standard. Now, let's imagine a second scenario: let's imagine you are in exactly the same place, connected to exactly the same transmitter and DSS equipment, but this time with you have a slightly older handset that only supports 4G – now, you'll be surfing with 4G. To summarise: one transceiver, two networks."
Why use DSS?
"As the global rollout of 5G networks progresses, dynamic spectrum sharing between 4G and 5G is becoming a focal point for mobile operators. DSS is an important enabler for the rapid and cost-effective construction of efficient 5G networks, with large coverage areas, using the current mid- and low-band spectrum. In the same 4G band, base stations can concurrently transmit LTE and 5G New Radio (NR) services, and distribute resources dynamically based on traffic demand."
"The 5G NR standard provides the ability to adapt to existing LTE deployments and to share the spectrum now (and previously) used exclusively by LTE. The enabling mechanism is DSS, which facilitates the co-existence of 5G NR and 4G LTE by using the same spectrum. In the long term, DSS enables network providers to use the lower frequency bands to provide a coverage layer for 5G. Some network operators are already using DSS, and a large-scale rollout is expected to occur between late 2020 and early 2022."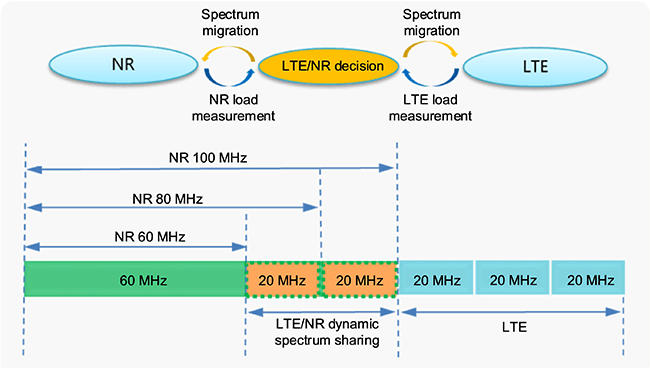 What are the impacts on 4G LTE and 5G NR?
"For a smooth, uninterrupted transition to 5G, DSS provides a unique solution. This innovative technology can be leveraged to implement 5G networks in LTE spectrum bands to minimise the impact on existing services. Mobile network operators will re-use their current LTE hardware and infrastructure with DSS and deliver 5G via software updates."
"However, when two separate systems need to share limited resources and overhead from 4G LTE, and 5G NR signal transmission impacts overall network capability, spectrum resource constraints may be introduced. To address this, based on the traffic requirements for each technology, DSS dynamically allocates resources to 4G LTE and 5G NR, enabling efficient use of resources."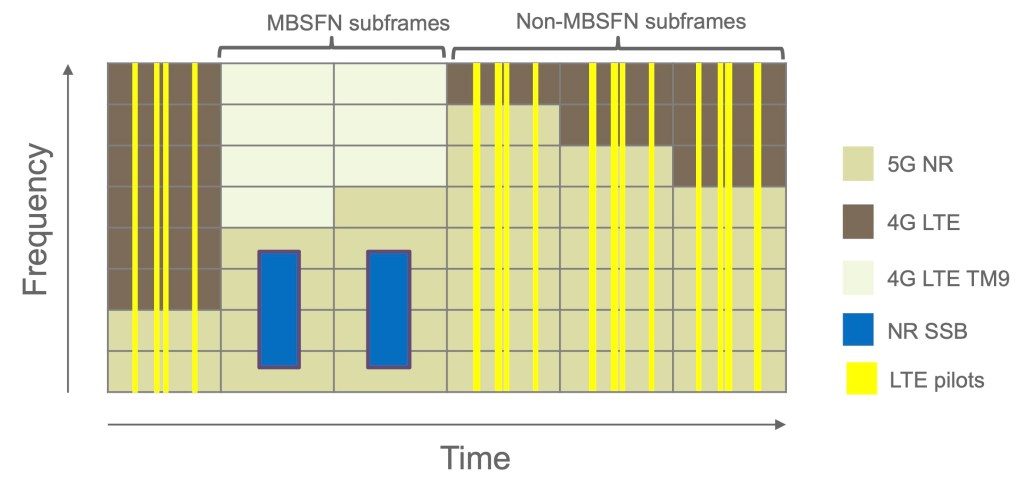 "Today, LTE is mostly dominated by low-spectrum bands. Therefore, operators deploying 5G in low spectrum bands are looking for solutions which minimise the impact on their existing LTE networks, and ensure a smooth migration, and 4G LTE – 5G NR dynamic spectrum sharing is one way to deliver this is. Service providers can deploy 4G LTE and 5G NR in the same bands by using DSS: LTE users access the network using LTE cells within one carrier network, while 5G users are linked using 5G cells."
"Network coverage is enhanced by introducing 5G in low spectrum bands, which in turn typically have greater coverage than high-spectrum bands. As a result, new low-band 5G NR bands need to be reserved by mobile network operators; the alternative approach is to deploy coverage densification solutions. However, coverage can be extended at a faster rate by deploying 5G in low spectrum bands. Furthermore, the control and signalling message can be passed to the low-frequency band when 5G carrier aggregation (CA) is used to aggregate the low- and mid-bands, and the data rate can be improved with extended mid-band coverage. This directly increases the overall efficiency of the cell."
Existing deployments
According to GSMA Intelligence, [3], at least sixteen mobile operators in 10 countries have already launched 5G using DSS, including Claro Brazil, China Unicom and China Telecom in China, and Verizon in the USA. These deployments can be classified into two groups:
Operators that want to deploy 5G but do not have access to 'new' 5G spectrum.
Operators with access to 5G spectrum but want to achieve greater coverage (by deploying DSS in low or mid bands).
Are there any disadvantages with DSS?
"Yes, let's be realistic here, it's not all good news! Using DSS results in a loss of 4G LTE and 5G NR capacity in the order of 10-20%. The amount of capacity lost depends on the mode and implementation technique of the equipment vendor. So when selecting vendors, a key differentiator to consider is how to minimise this capacity loss."
In conversation with Amr Ashraf, Digis Squared 5G & LTE RAN & Software Solution Architect, and Trainer.
DSS optimisation and INOS
If you or your team would like to discover more about DSS optimisation, or how INOS can help you in your network deployment or benchmarkings, please get in touch: use this link or email sales@DigisSquared.com .
Keep up to speed with company updates, product launches and our quarterly newsletter, sign up here.
Digis Squared, independent telecoms expertise.

AWS: Advanced Wireless Services (a wireless communication frequency band of the radio spectrum)
CA: carrier aggregation
CSP: communications service provider
DSS: dynamic spectrum sharing
MBSFN: multicast-broadcast single-frequency network
NR: 5G New Radio
Image credits: Sergey Pesterev, view from Hurghada International Airport Egypt.