Insights & Events
Business updates
Digis Squared's 2021 significant milestones
Gratitude and thanks to our customers and partners for their continued collaboration and trust in us, from the Digis Squared Team.
"2021 has been a year of significant milestones for the Digis Squared team," shared Ziad Khalil, Digis Squared's Co-Founder and CEO. "As the end of the year approaches, we send our gratitude and thanks to our customers and partners for their continued collaboration, and trust in us. As our business continues to grow, we know that our people, and the people we work with are absolutely vital to our success. We succeed together!"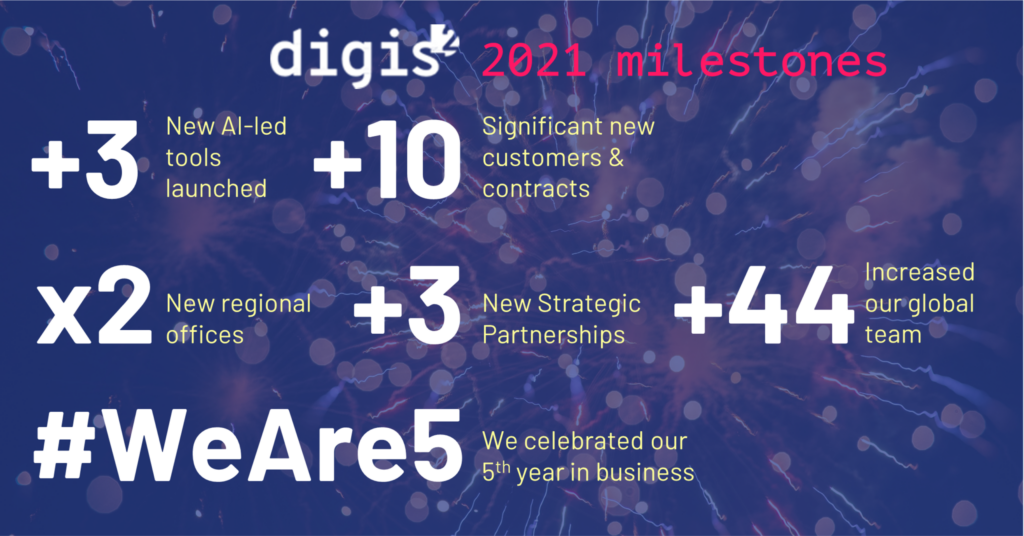 +3 New Cloud-based AI-assisted tools launched.
To enhance our existing suite of cloud-based, AI-led, and vendor-independent tools – INOS suite for drive testing and field optimization, and IPM cloud-based performance management solution – in 2021 we developed and launched Digis-One, a cloud-native Unified Fault Management platform, UCM an AI-assisted cloud solution for Unified Configuration Management, and Digis-Capacity, our ML & AI capacity management tool. Further new tools and enhancements are planned in early 2022, as we continue to invest in our market-leading multi-vendor, multi-technology solutions.
+10 Significant new customers and contracts.
x2 New regional offices.
We increased the number of global Digis Squared offices, and doubled the number of regional offices with the addition of a new facility in Luanda. Digis Squared now have offices in UK, Cairo, UAE and Angola.
+3 New strategic partnerships.
As a part of our technology-oriented System Integration, and through new strategic partnerships, we are now ready to introduce to our telco customers E2E use cases covering 5G standalone, private networks, Open RAN, IOT & support for public cloud adoption. Public partnership announcements: We have been recognized by Intel Corporation and awarded Intel Winner's Circle Membership.
+44 Increased our global team.
With recruitment to support new contracts in the Middle East in our Dubai office at the start of the year, and significant recruitment in our new offices in Angola in the last quarter, in addition to growth in the teams in the Technology & Support Centre in Cairo, it has been an immensely busy year for the HR team and everyone involved in recruiting and onboarding new staff. (If you're interested in working with us, all our current roles are here.)
#WeAre5
CEO Ziad Khalil says, "As a relatively young company, reaching the Year 5 milestone is an immense achievement, and something to celebrate. As a fully self-funded, profitable business, the founders are proud and thankful to have achieved this success. We know this is only possible because of the hard work and dedication of the entire team, and the trust our clients and partners continue to place in us. As a leadership team, we are mindful that the growth we are experiencing now is also an ambitious time for any business to navigate – we are working carefully to ensure our systems and processes scale, and our culture remains strong. We work flexibly and with care, always looking to improve, and acting with integrity. We can be counted on to deliver what we promised, and always focussing on delivering commercial value to our clients."
Looking ahead to 2022
CTO AbdelRahman Fady shared, "All our state of the art software and solutions are future proof, cognitive, cloud-native, and with 5G support, ensuring that we provide independent, vendor-agnostic solutions for our clients. Our 2022 development schedule is ambitious, and there will be drops of new capabilities delivered as part of our agile development process. A number of our clients have early access already to some of our new capabilities, and their feedback is helping us refine further enhancements before we push them out on general availability. This development work is vital to keep pace with the constantly evolving issues we see as network interactions become more complex."
CCO Mohamed Hamdy said, "2022 is already looking like a big commercial year for us. We have new clients coming on board, and extensions to existing contracts – a great mix! And, fingers crossed, at the end of February, we will get the chance to meet in real life at GSMA Mobile World Congress, where our exhibition stand will have live connectivity to our AI-led tools. If you want to see a live demo of network optimisation whilst you're in Barcelona, drop by or get in touch to book a dedicated meeting!"
"I am very proud of the team and solutions we have built, and the difference we are making to the people and networks we manage and enhance," CEO Ziad concluded. "To everyone who has contributed to Digis Squared's significant milestones and projects this year, thank you! To the team, partners and clients we work with in the year ahead, we are ready, let's help make your mobile network work, better."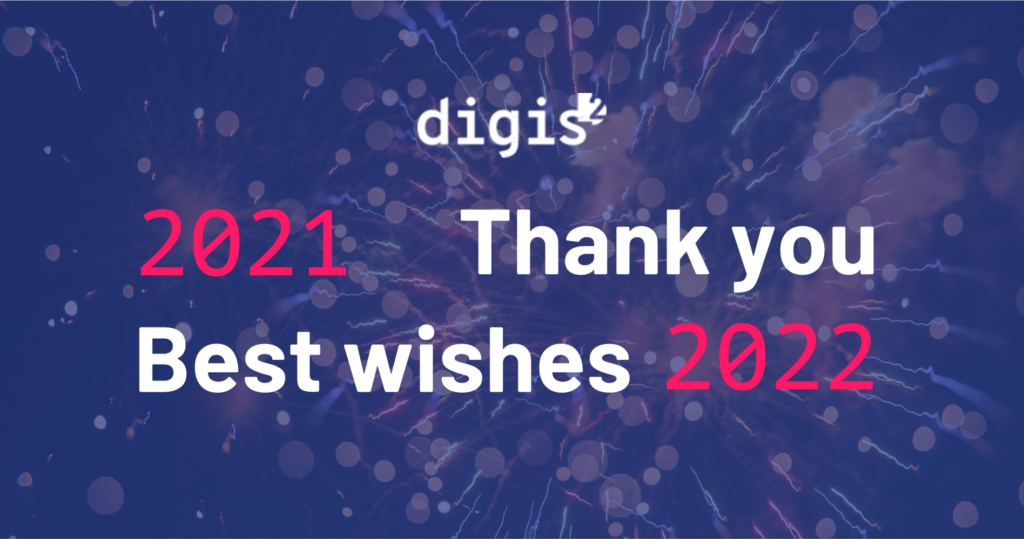 Keep up to speed with company updates, product launches and our quarterly newsletter, sign up here.
Digis Squared, independent telecoms expertise.

Digis Squared social media and blog banner image: Erwan-Hesry