The background: why is the 600MHz band being used for LTE?
Mobile data usage continues to grow throughout the world, and the pandemic has massively impacted forecasts and expectations, causing telecom operators and CSPs to bring forward their deployment decisions.
"The limited amount of spectrum available below 1 GHz will ultimately run out of capacity. This puts mobile broadband at risk in emerging markets, rural areas and inside buildings. Therefore, long-term
planning is key to enable countries to offer great mobile services for everyone."

GSMA, October 2019
So what can be done to identify more spectrum for mobile broadband? Countries working on the digital TV switchover can consider including 600MHz for mobile broadband. North America is leading the way – USA auctions were completed in April 2017, Canada in April 2019, and Mexico in 2020!

600MHz LTE benefits
We asked Amr Ashraf, RAN and Software Solution Architect and Trainer at Digis Squared, to give us his insights into LTE 600MHz band.
"Over the last couple of years we've been starting to hear about the deployment of very low band for mobile communication. Now, we have commercial networks working on one of the most important low bands, 600MHz."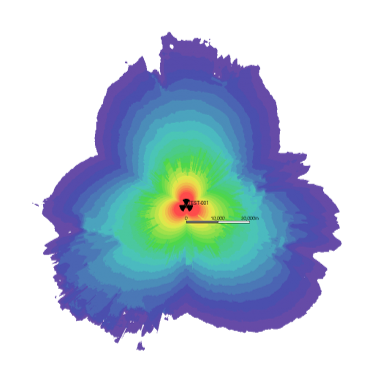 "600MHz is likely to need about 0.8 cells to cover the same area as a 700MHz cell. So 600MHz will be excellent for providing coverage over a given area. And, as an added bonus, the 600MHz signal is likely to penetrate most buildings – great for indoor coverage."
"Ideally, an operator will have a selection of low band (600MHz, 700MHz and 90MHz) spectrum to provide wide coverage and in-building coverage together with higher bands (1.8GHz, 2.1/2.6GHz, etc.) to provide capacity at specific locations with small cells, including in-building distributed antenna systems. The trick is in deploying the bands efficiently and economically to meet the market needs."
… and issues
"On other hand, I don't think that the 600MHz band will be that useful for 5G implementation, as we can't use all the new transmission techniques with a low band like Massive MIMO."
"In order for MIMO to work effectively, the antennas need to be spatially separated such that they are uncorrelated. And, the lower the band, the larger the antenna and the required separation between them. At the 600MHz band, it would be incredibly difficult to physically fit more than two uncorrelated antennas inside handsets, given their current sizing. Our calculations therefore assume that 5G and 4G in the 600MHz band will only make use of 2×2 MIMO."
"There will be some problems to be faced in the reallocation of systems currently utilising this band, like DTV, and also some wireless devices like MICs. However, 600MHz LTE will be one of the most important bands during the next 10 years for full 4G coverage, particularly for rural areas."
What problems are encountered deploying the 600MHZ band?
With any new network deployment, testing and optimisation are vital to ensure network performance, and also address any inadvertent impacts on existing networks. Whilst a limited number of activities can be undertaken centrally, drive testing, and in-building testing are critical to understanding the real customer experience in the field.
Developed in-house by Digis Squared, INOS is an intelligent, automated testing, benchmarking and analysis platform for network operators and service providers, delivering drive testing (DT), in-building solution (IBS) capability, and much more, whilst decreasing both the time taken to complete the work and opex cost.

Using cloud-controlled mobiles mounted in cars or taken around buildings, INOS collects and uploads data to the cloud, and eliminates the need for a laptop or engineers in the car, or out and about inside buildings. INOS can receive updated test scripts in the field to instantly re-analyse live network configuration changes, avoiding expensive follow-up field trips. It minimises the sometimes chaotic nature of drive tests, and ensures your staff can work alone at Covid-19 safe distances.
One of the key issues with any drive testing tool, such as INOS, is that there are very few mobile phones available for drive testing in this 600MHz LTE frequency, and where there are, drive test solutions don't use them.
The good news: uniquely, INOS supports LTE 600MHz band
The Digis Squared team have extensively tested a large range of mobile phones, and the best-performing mobile in the LTE 600MHz band that we have found so far is the Google Pixel 5.
After detailed testing in specific locations where 600MHz LTE is in the live network, our teams have found a significant enhancement in capability using this device in our testing portfolio.




LTE 600MHz optimisation with INOS
We've already started drive testing this capability with live networks. If you or your team would like to discover more about LTE 600MHz optimisation, or how INOS can help you in your network deployment or benchmarking, please get in touch: use this link or email sales@DigisSquared.com to arrange an informal chat.
In conversation with Amr Ashraf, Digis Squared 5G & LTE RAN & Software Solution Architect, and Trainer.
Digis Squared, independent telecoms expertise.
Keep up to speed with company updates, product launches and our quarterly newsletter, sign up here.

CSP: communications service provider
DT: drive testing
DTV: digital TV
IBS: in-building solution
INOS: Intelligent Network Optimisation Solution, a Digis Squared tool
MICs: wireless microphones
MIMO: multiple-input and multiple-output. A method for multiplying the capacity of a radio link using multiple transmission and receiving antennas to exploit multipath propagation.