Insights & Events
Technologies
Product update: cognitive tools "OpenRAN Ready"
Ahead of MWC22, CTO Abdelrahman Fady, declares Digis Squared's suite of cognitive network testing and optimisation tools "OpenRAN Ready".
Ahead of MWC22, Digis Squared's CTO, Abdelrahman Fady, shares insights into ongoing development work on the Digis Squared suite of cognitive network testing and optimisation solutions, and declares tools "OpenRAN Ready".
"The development teams in our Technology Centres in Cairo and London have been very busy enhancing the existing suite of cognitive tools to ensure that they are "OpenRAN Ready". In advance of MWC next week, I'm really happy to share some of the key updates underway," stated Abdelrahman.
Digis-One: technology and vendor agnostic Unified Fault Management
Can now connect with the big four legacy vendors and main OpenRAN vendors
Unifying all alarms from across all network systems and vendors into a single screen
OpenRAN solutions seamlessly integrated to a single view on one screen
iPM: intelligent technology and vendor agnostic network performance management platform
Able to connect to legacy vendors in addition to main OpenRAN vendors, and integrate their different performance files into a single unified database
Unify and visualize all these KPIs into a single coherent view on one screen, and represent them geographically
Single touch comparison between legacy vendors and OpenRAN vendors performance
INOS: technology and vendor agnostic intelligent network field testing and optimisation solution
New INOS OpenRAN testing and analytics module launched to easily identify gaps and differences in performance, L3 & L2 messages content and formats, network throughputs, and measure quality between OpenRAN and Legacy RAN sites
Forecasting of vulnerable areas after OpenRAN deployment
Automated acceptance report for new Open RAN sites
"If you want to learn about our new "OpenRAN Ready" cognitive network optimisation solution capabilities," said Abdelrahman, "I will be pleased to meet with you in Barcelona next week, please get in touch!"

Addendum, 22 February 2022
LinkedIn ◦  Following Digis Squared's earlier "OpenRAN Ready" solution announcement, Hazem Amiry, Regional Sales & Business Development Manager, shared that, "We've been working for some time now on an OpenRAN PoC with a very large operator in the Middle East, as the lead contractor on a project with a multi-awarding winning software-enabled OpenRAN solution provider. This project is enabling the team to learn first-hand the benefits of OpenRAN deployment, and ensure we are able to fully optimise our suite of cognitive tools to real-life, complex deployment issues efficiently."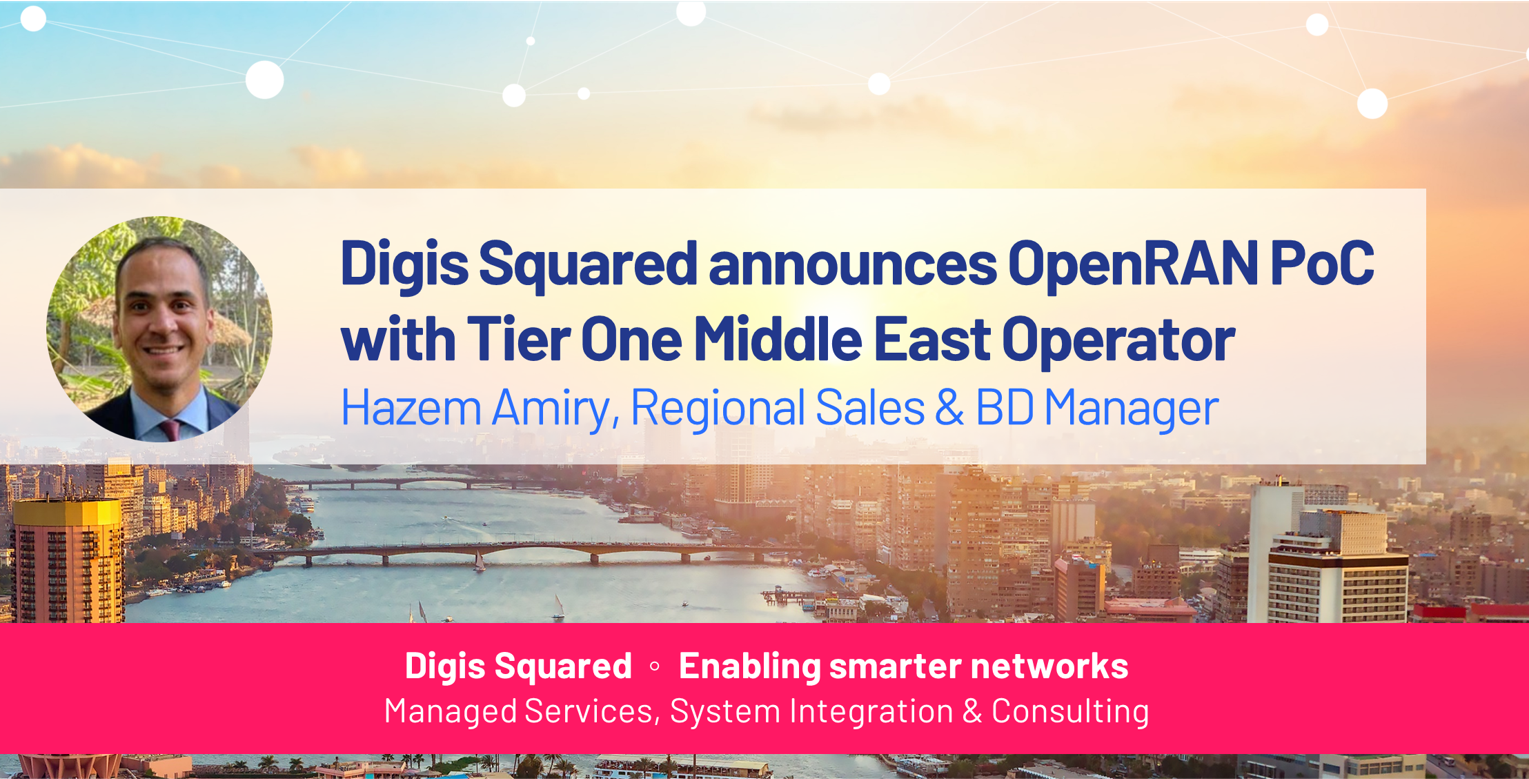 Discover more
Digis Squared, independent telecoms expertise.