At Mobile World Congress 2023, the "world's largest and most influential connectivity event", Digis Squared showcased a number of solutions. In this blog post Obeidallah Ali, Digis Squared RAN Automation Architect & INOS Product Manager, shares INOS previews from the Digis Squared MWC23 exhibition stand.
INOS preview at MWC23
At MWC23, the Digis Squared team showcased and previewed new INOS kits, and a new graphical user interface (GUI).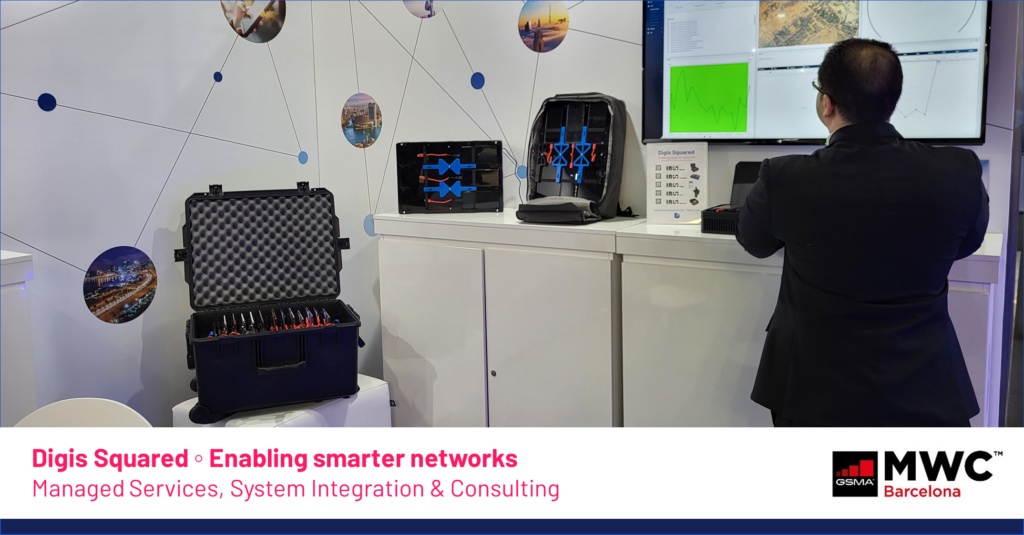 Preview: new INOS interface
The live demos on the Digis Squared exhibition stand included 4G and 5G analysis of the live mobile networks in Hall 7 at MWC23, and featured a real-time INOS dashboard with 6x specialist widgets.
Mobile monitoring status: battery status, script status, temperature, and log files. Enables mobile device control, including sending of new scripts, locking on a certain band, or shutting down and restarting the device.

Time charts of serving RSRP (power level) of 5G. (The video shows some spikes which may occur due to mobile movement or activity, which is considered normal.)

Map with satellite view, displays the precise location of the mobile device within Hall 7 at MWC23.

Table of Layer 3 messages, deep signalling layer information from the air interface.

Table of radio and mobile side events, including starting and ending scripts, and multiple radio events, such as attach/detach, RRC setup, and more.

Time charts and multiple KPIs for downlink and uplink throughput. During speed tests, the charts change dramatically and show test results in real-time."
Preview: new INOS kits

At MWC23 the Digis Squared team previewed 5 new physical INOS kits, for different deployment and measurement scenarios,
Static: in-building continuous active measurement

Single device: highly portable

Backpack: for indoor assessment, or along narrow streets on foot, bicycle or moped, enabling access to tricky-to-reach locations

Compact: cost-efficient, light-weight and holding up to 6 devices

Drive testing: self-contained, rugged and portable kit, holding up to 26 devices.
INOS updates to chipset & handset support

MWC23: With thanks to Obeidallah Ali and the INOS team, and in particular R&D Engineer Yahia El-Ghayesh for his significant contribution to this demo and the development of the INOS kits.
INOS: Watch this space for further announcements!
What is INOS?
Digis Squared's INOS AI tool, developed in-house, is a vendor-agnostic, multi-network-technology solution delivering automated assessment, testing, benchmarking and optimisation of networks. Generating actionable reports in just 15 minutes, combined with live-view for instant adjustments, INOS significantly reduces the time taken to complete the work and opex cost, to deliver optimum customer experience.
INOS can be implemented as a public or private cloud, or on-premise solution, and is also available as a "Radio Testing as-a-service" model. Its extensive AI analysis and remote OTA capabilities ensure speedy and accurate assessment of all aspects of network testing: SSV, in-building and drive testing, network optimization and competitor benchmarking, across all vendors, network capabilities and technologies, including 5G, private networks and OpenRAN.
Discover more
Image credits: copyright Digis Squared, except Barcelona (iStock).
Digis Squared ◦ Enabling smarter networks.