Mobile World Congress 2023, the "world's largest and most influential connectivity event", saw over 88,500 attendees join over 2,400 exhibitors, sponsors and partners, and over 1,000 speakers and thought leaders, in Barcelona at the end of February. Gwen Edwards, Digis Squared Marketing Director, recaps the team's success, and shares INOS previews from the exhibition stand.
MWC is back, in full force
GSMA Mobile World Congress 2023 saw over 88k people visit the Fira Gran Via over 4 days, and with all the halls and the North entrance re-opened, there was a significant change in energy – the magic of MWC was back in full force!
Digis Squared team at MWC23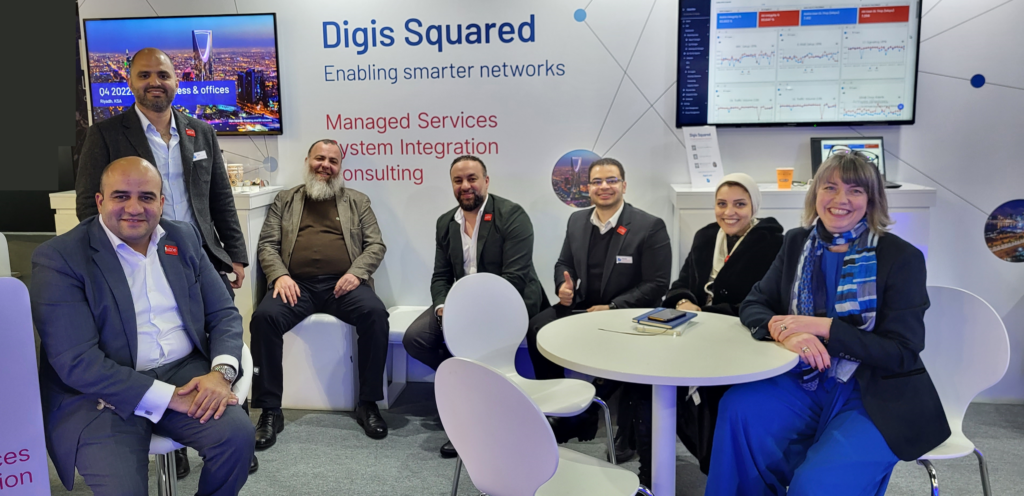 Participating as part of the UK Pavilion, the Digis Squared team had a full schedule of client and partner meetings – plus plenty of surprise opportunities to catch up with former colleagues and meet new connections in real-life for the first time.

Work with our partners is vital to the projects we deliver for clients, and MWC23 enabled the Digis Squared team to highlight their INOS solution on the vast Intel exhibition stand. As a Gold member of the Intel Network Builders Program, and a member of the Intel Partner Alliance, Digis Sqaured collaborates closely with the valued Intel team.
MWC always delivers great networking opportunities, and the "Africa Mobile & Digital Economy Leaders Reception" was a special highlight this year.

New INOS hardware & GUI preview
Digis Squared used MWC23 to showcase a preview of the new form factors for INOS*, and the new fully-featured user interface. Watch this space for further INOS updates coming soon!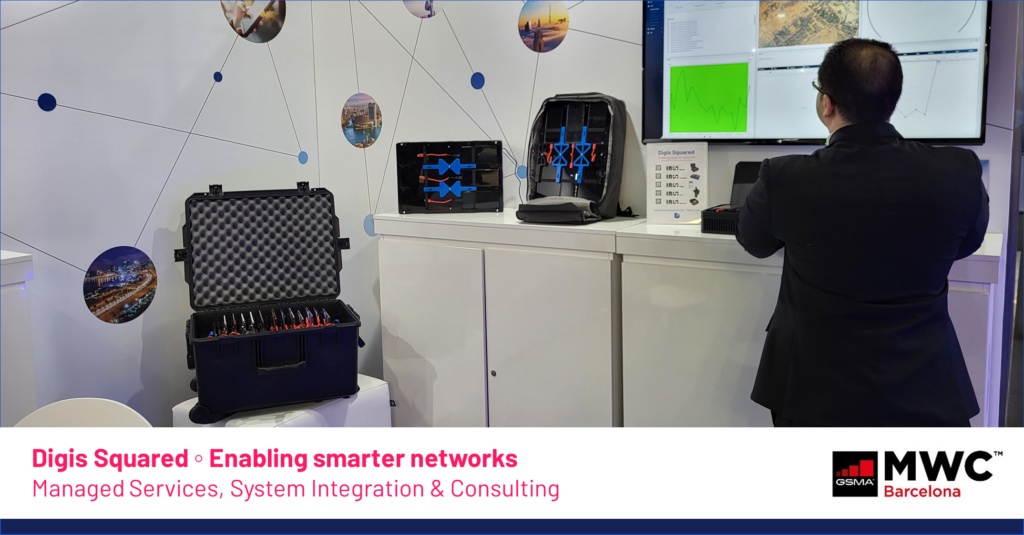 Thank you MWC23
The Digis Squared team were delighted to be back at MWC23 as part of the UK Pavilion, thrilled to be able to preview the new INOS interface and kits, and grateful to the brilliant Tradefair and UK Department for Business & Trade teams for all of their support.
The Digis Squared team are already making plans and looking forward to being back in Barcelona at MWC in 2024 – who knows, maybe next year we can fit the #DeloitteDigitalDog with INOS, and he can test coverage throughout every hall!
*What is INOS?
Digis Squared's INOS AI tool, developed in-house, is a vendor-agnostic, multi-network-technology solution delivering automated assessment, testing, benchmarking and optimisation of networks. Generating actionable reports in just 15 minutes, combined with live-view for instant adjustments, INOS significantly reduces the time taken to complete the work and opex cost, to deliver optimum customer experience.
INOS can be implemented as a public or private cloud, or on-premise solution, and is also available as a "Radio Testing as-a-service" model. Its extensive AI analysis and remote OTA capabilities ensure speedy and accurate assessment of all aspects of network testing: SSV, in-building and drive testing, network optimization and competitor benchmarking, across all vendors, network capabilities and technologies, including 5G, private networks and OpenRAN.
Discover more
Image credits: all images, as stated, and all others are copyright Digis Squared, except first image (Barcelona iStock).
Digis Squared ◦ Enabling smarter networks.