"The Digis Squared team are delighted to sponsor the GSMA Mobile 360 Riyadh event this year," confirmed Yasser ElSabrouty, Chief Business Officer and Co-Founder at Digis Squared. "We look forward to meeting in person with senior executive leaders and innovators shaping the future of digital transformation, 5G, OpenRAN and private networks in the Gulf."
GSMA Mobile 360 Riyadh
Focussing on "The Tech Road and the Gulf: Vision 2030", this GSMA invite-only event welcomes policymakers and regulatory authorities to meet with leaders from the region's connectivity industry and other pioneering sectors. The conference enables attendees to share details of the rapid digital investment plans taking place in the Kingdom of Saudi Arabia, under the guidance of Vision 2030. Amongst other subjects, the agenda explores how technology will shape the future, how to create a sustainable industry and examine what's next for mobile connectivity.
If you would like to arrange a dedicated time to talk with the Digis Squared team in Riyadh, please get in touch, sales@digissquared.com, or contact Yasser ElSabrouty, or Mohamed Hamdy.
Discover more about the event, and apply to register for free entry, here.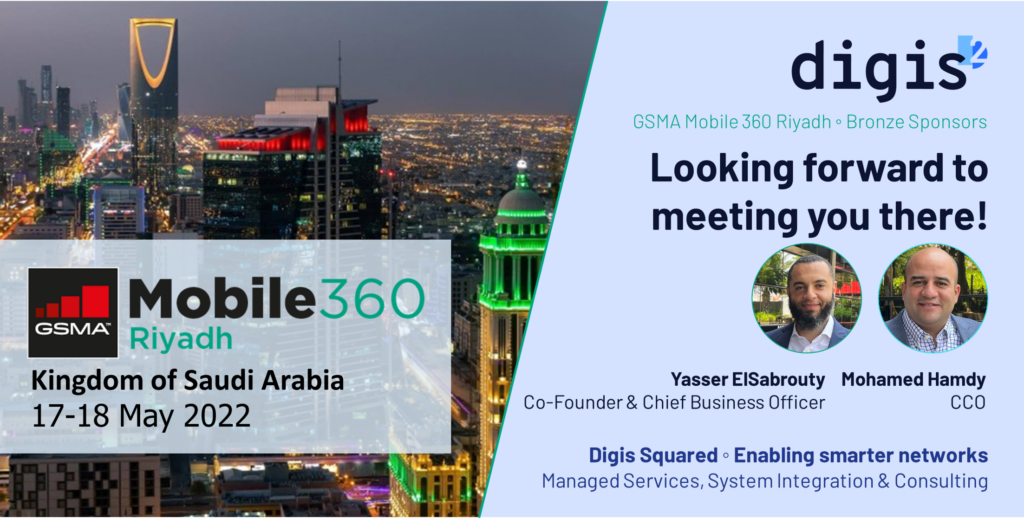 Digis Squared, independent telecoms expertise.
We transform telecom networks, deploy new technologies, and manage vendors, for operators, service providers and regulators.
Apply our expertise, automated AI-led tools and processes to transform your technical and commercial capabilities. We work with agility, deep experience, and our in-house cognitive tools to optimise and manage multi-vendor networks across all technologies. With Private Network, 5G and OpenRAN deployment expertise and tools, we are ready to support your deployment.
Discover more

Image credits,
GSMA Mobile 360 Riyadh event: via GSMA
Top of this page: adznano3
Also referenced by,