"The Digis Squared team are pleased to be sponsoring the live platform for the UK 5G Showcase event, enabling even more people globally to join this sold-out event," shared Marketing Director Gwen Edwards. "We welcome the opportunity to meet in-person with other innovators and leaders in the 5G, Open RAN and Private Networks sector. We'll be happy to discuss some of the System Integration and Interoperability Testing work we are undertaking for our clients."
If you would like to arrange a dedicated time to talk with the team, please get in touch, sales@digissquared.com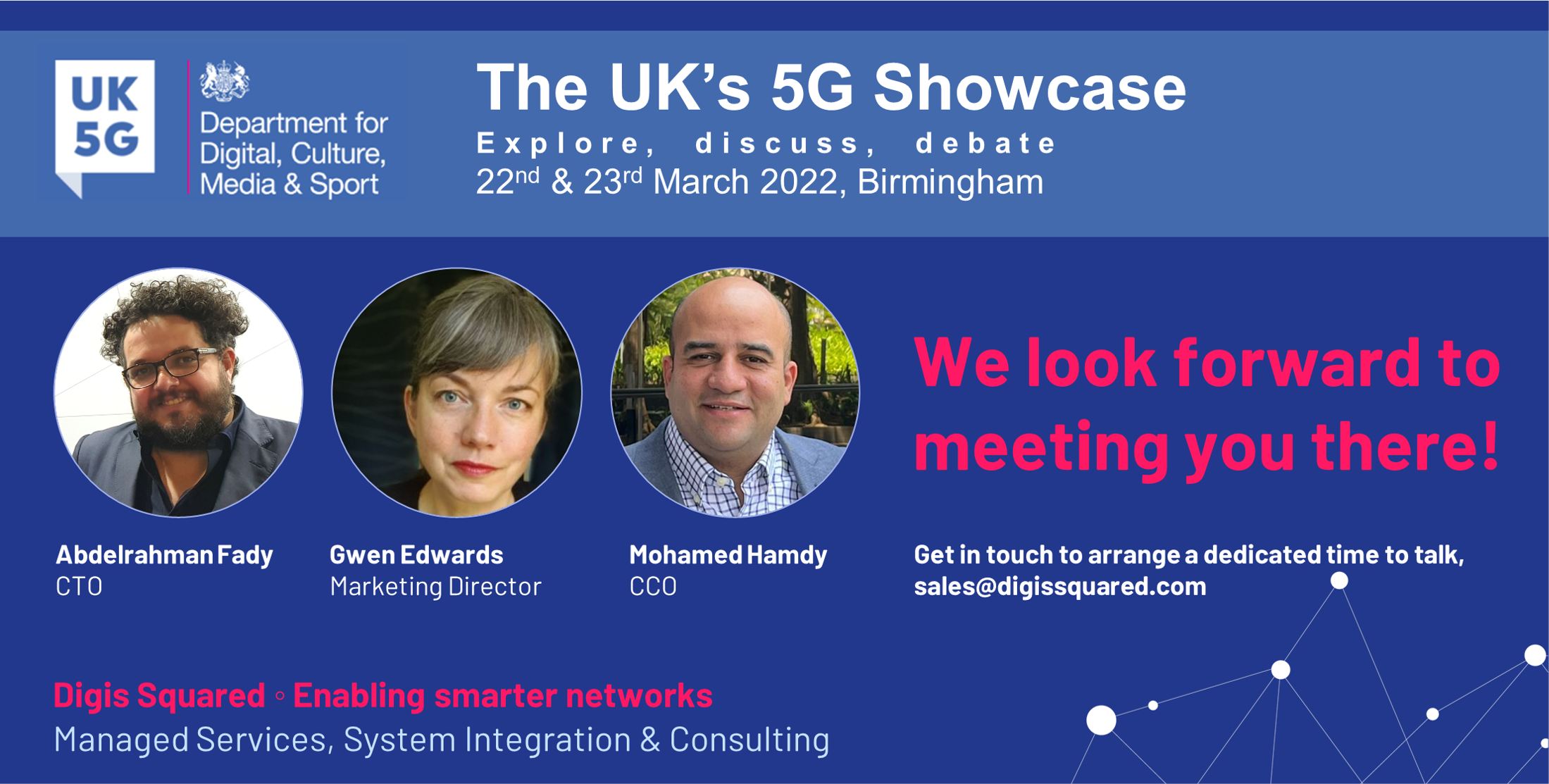 The UK's 5G Showcase – Realising the transformative potential of 5G, 22nd to 23rd March 2022, Birmingham, UK. Organised by CW (Cambridge Wireless) on behalf of 5GUK and The Department for Digital, Culture, Media & Sport (DCMS). The UK's 5G Showcase conference and exhibition is a two-day event aimed at senior change-makers and decision-makers from industry, the investment community, government, industry and the public sector from the UK and across the globe.
Discover more about the event, and access it for free online, here.
Digis Squared, independent telecoms expertise.
We transform telecom networks, deploy new technologies, and manage vendors, for operators, service providers and regulators.
Apply our expertise, automated AI-led tools and processes to transform your technical and commercial capabilities. We work with agility, deep experience, and our in-house cognitive tools to optimise and manage multi-vendor networks across all technologies. With Private Network, 5G and OpenRAN deployment expertise and tools, we are ready to support UK 5G deployment.
Discover more,

Image credit: Sarah Doffman (Birmingham)