Post-event update: Get full access to the sessions recordings from guest speakers and Mobileum. Please login to Mobileum's website to get access to this exclusive content. If you haven't registered yet, please register here.
Confirming that the Digis Squared team will be attending and speaking at Mobileum's WeMeet Americas 2022 event, on the 1st and 2nd June, in Miami.
Mobileum, a leading global provider of analytics solutions for roaming and network services, security, risk management, testing and service assurance, and subscriber intelligence, have invited Digis Squared's Chief Commercial Officer, Mohamed Hamdy, to join the 5G Testing Strategies panel discussion on day one.
WeMeet Americas 2022
The WeMeet Americas event, to which Mobileum's key clients and partners are invited, focuses on "Operating the Next Generation Network". Hosted by Mobileum over two days, in Miami's Fontainebleau Beach Hotel, the conference will bring together a senior audience of CSP's from North America and Latin America who will share their knowledge and experience.
Discussions will centre on how carriers can meet the challenges and opportunities brought by 5G rollouts, IoT expansion, VoLTE adoption and growing cyber threats, and cover four key topics,
Assuring and Safeguarding the Next Generation Network
Building the Future of Roaming and Interconnect
Shaping the Next Generation Experience
Monetizing 5G.
Speaking ahead of the event, Mohamed said, "I'm very much looking forward to participating in this panel discussion and bringing a business and customer benefit angle to the conversation. Testing, optimising and benchmarking existing and new 5G, OpenRAN and Private Networks are key elements of Digis Squared's activities. Our team have deep expertise in developing cognitive tools to automate and analyse radio network and end to end performance. I'll be happy to share insights into how we apply our skills in optimising networks and capacity management to benefit customer experience."
Let's Meet
Yasser ElSabrouty, Digis Squared Chief Business Officer and Co-Founder, will be joining Mohamed Hamdy, Digis Squared CCO, at WeMeet.
Discover more about Mobileum's WeMeet Americas 2022 event here.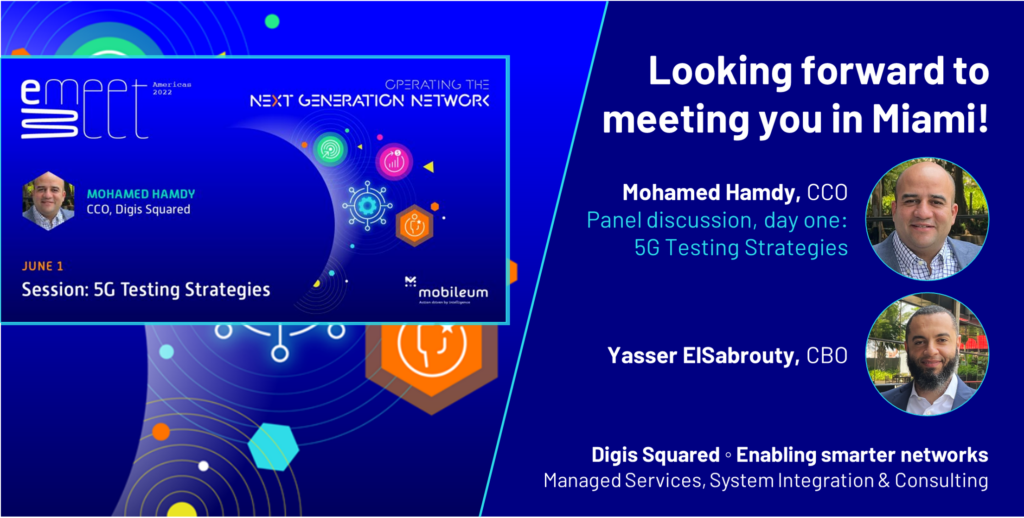 Digis Squared, independent telecoms expertise.
We transform telecom networks, deploy new technologies, and manage vendors, for operators, service providers and regulators.
Apply our expertise, automated AI-led tools and processes to transform your technical and commercial capabilities. We work with agility, deep experience, and our in-house cognitive tools to optimise and manage multi-vendor networks across all technologies. With Private Network, 5G and OpenRAN deployment expertise and tools, we are ready to support your deployment.
Discover more
Mobileum's WeMeet Americas 2022: Mobileum