UK-Ghana Digital Transformation Conference, 9th May, Abingdon, UK
This in-person event brings together representatives from the Ghanaian and UK Governments, technology leaders in the private sector, academia and research centres, to identify synergies and accelerate the implementation of transformative projects in Ghana's digitalisation program.
The Conference will showcase the UK's private sector expertise in digital, science & innovation and foster partnerships between Ghanaian and UK Companies.
The stellar list of speakers includes H.E. Alhaji Dr Mahamudu Bawumia, Vice President of the Republic of Ghana, the Hon. Ursula Owusu-Ekuful, Minister For Communications And Digitalisation, Republic of Ghana, and Harriet Thompson, British High Commissioner to Ghana, United Kingdom Government, amongst many other shining lights of the Ghana tech and digital eco-system.
Digis Squared's CCO, Mohamed Hamdy, commented, "We're delighted to be supporting this conference, and its aims of accelerating Ghana's digital transformation. Across Africa and the Middle East, we've been working with telecoms operators and Regulators, as well as private sector companies, to implement and enhance their digital transformation projects. Most recently, in Africell Angola, we are working together with our partners to completely transform the digital capabilities in the mobile sector. In the Middle East we are working on LTE and 5G Private Network projects, with particular interest in the oil and gas sectors."
"We're excited to be participating in this conference and look forward to in-depth conversations with senior representatives from Ghana, an enhanced understanding of the Ghanaian digitalisation program, and identifying ways in which we can work together on the implementation of transformative digital capabilities. This conference is a great initiative!"
"I'll be at this conference in Abingdon on 9th May, along with my colleague Gwen, and we would be delighted to meet you informally, or arrange a dedicated meeting.""
Discover more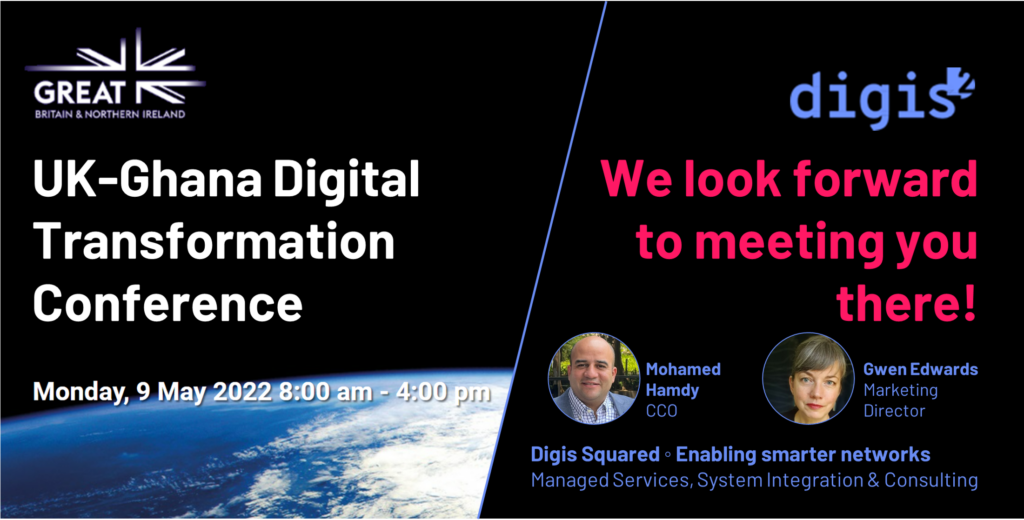 Digis Squared, enabling smarter networks.
We transform telecom networks, deploy new technologies, and manage vendors, for operators, service providers and regulators.
Apply our expertise, automated AI-led tools and processes to transform your technical and commercial capabilities. We work with agility, deep experience, and our in-house cognitive tools to optimise and manage multi-vendor networks across all technologies.