In conversation with CEO and Founder Ziad Khalil, we discuss how Digis Squared's new office in Angola supports business expansion across southern Africa.
Digis Squared Ltd, the UK-based managed services, system integration and telecoms consulting specialists, continues the expansion of its global footprint with the opening of new offices in Luanda, Angola this month. This latest announcement builds on solid business growth at Digis Squared, and enhances support to clients in the southern region of Africa.
Digis Squared's London HQ, and Technology & Customer Support Centre in Cairo now have over 180 staff, an increasing team in the Dubai office opened in December, plus additional staff in-country embedded in clients' offices in Europe, the Middle East and Africa. The announcement today builds on the celebrations of Digis Squared's fifth year in business, and their #WeAre5 campaign.
Ziad Khalil, CEO and Founder at Digis Squared, shared his insights into why the business is investing here in Angola, now,
"Our clients and partners have demonstrated their trust in the Digis Squared team and our capabilities, and as our commitment in the region continues to expand, this is reflected in our new investment in Angola. With increasing numbers of significant engagements locally, and across Africa, now is the time for Digis Squared to invest and open a new office in Luanda."
With business continuing to expand across central and southern Africa, the new office space in Luanda will provide a regional hub, and ensure that the growing Digis Squared team has a Covid-19 secure space to meet clients, and collaborate in-person safely.
"2021 continues to be another year of significant success and growth for the Digis Squared team. The work we undertook for clients in 2020 addressed massive changes in mobile network demand caused by the pandemic, re-dimensioning and optimising network performance," commented Ziad.
"This significant investment in new offices in Luanda, strengthens our commitment to clients in Angola and across the southern Africa region. The facilities will enable our local team to provide enhanced support to new and extended contracts, as our business continues to expand."
"As 2022 approaches, and new technology deployments continue at pace, this location is ideally situated to deliver further business expansion and enhanced presence in the region for Digis Squared," Ziad added. "This investment strengthens the local support and capabilities we can deliver to our clients and staff, and demonstrates our commitment to them."
In conversation with Ziad Khalil, Digis Squared CEO and Founder.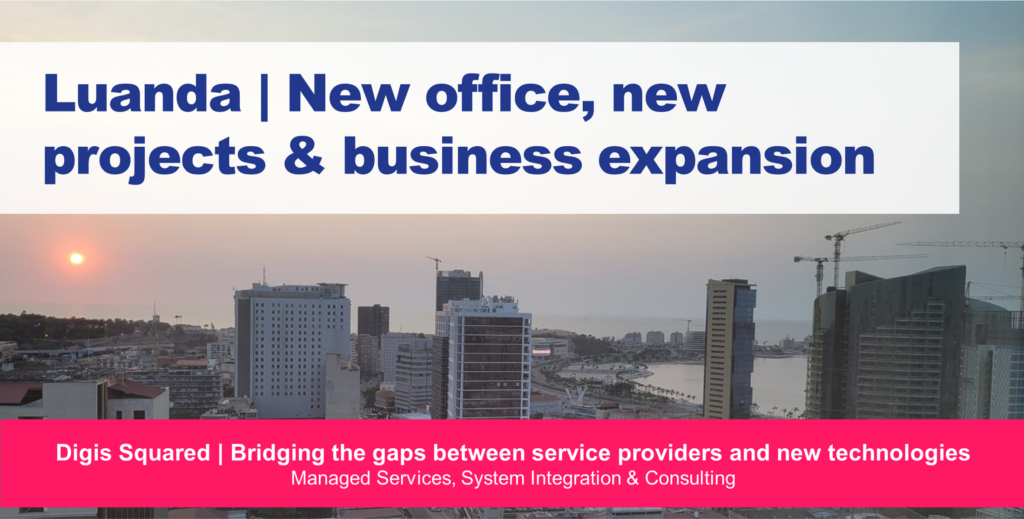 Keep up to speed with company updates, product launches and our quarterly newsletter, sign up here.
Digis Squared, independent telecoms expertise.

Digis Squared social media and blog banner image: Mohamed Hamdy