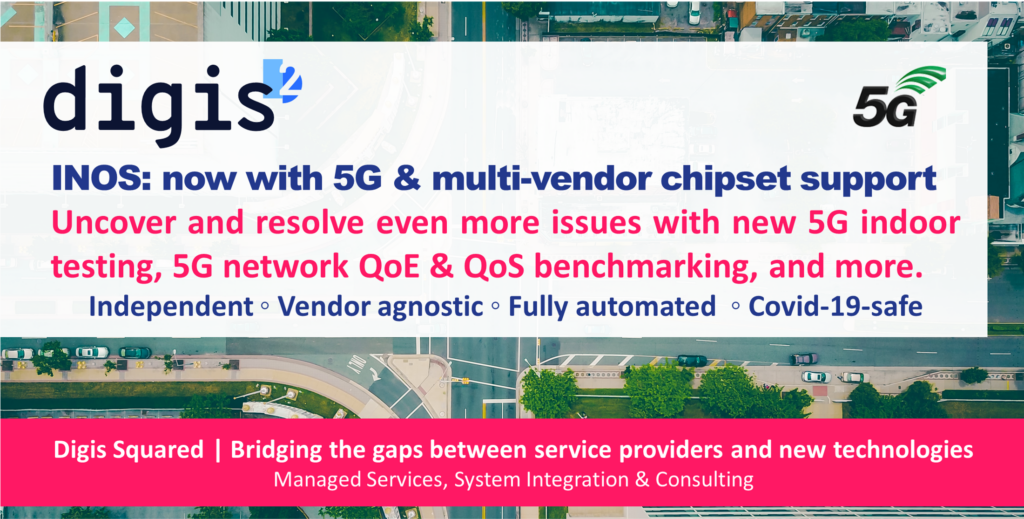 INOS ◦ now with 5G & multi-vendor chipset support
Enhanced 5G benchmarking and testing capability, OpenRAN functionality testing, and multi-vendor 5G chipset support, the latest major new features added to INOS ensure clients have access to valuable commercial capability.
INOS – the independent telecoms network benchmarking, drive-test and in-building solution developed in-house at Digis Squared – has just been enhanced to deliver major new features to our telecom operator, CSP* and Regulatory clients, including those managing Private Networks. These new features deliver significant new capability to uncover and resolve even more telecom network issues, and enhance customer QoE and network QoS.
"The new 5G INOS features announced today will help MNOs better understand and optimise their network performance, including in deployments with complex multi-vendor architectures and OpenRAN. This is great news for our clients needing Covid-19 safe solutions to optimise their 5G infrastructure, for Regulators working to obtain an independent view of total network performance, and ultimately to the end customer seeking a better connection."
New 5G capability
Extending the range of network testing capabilities, the new enhancements add 5G to our 2G, 3G, 4G and IoT (CAT-M, NB-IoT 1, NB-IoT 2) network capability, across voice, video, data and OTT
The new INOS 5G complete testing set gives you visibility of more than two hundred different network KPIs
5G benchmarking solution gives you full visibility of network QoS and customer QoE
5G L3, L2 and L1 signalling capability
5G fully automated single site verification drive testing solution
5G indoor (in-building survey) testing capability.
Extended handset support
Now supporting multi-vendor 5G chipsets: Huawei, Samsung and Qualcomm flagship mobiles.
O-RAN support
OpenRAN functionality testing, end to end, from radio through to interoperability and benchmark testing between OpenRAN and Legacy RAN
Ensures you can pin-point which component in your multi-vendor ecosystem needs to be optimised or investigated further.
Cloud control – for instant updates, and Covid-19 safety
Our cloud-controlled INOS automated testing platform delivers both drive testing, and in building survey data, enabling operators and service providers to efficiently obtain the insights needed for key decisions.
Our tools need just one person in the vehicle or building – no engineers are needed on-site, ensuring that they can do their work safely and together we can keep our communities connected.
Detailed, actionable automated reports are generated within just 15 minutes after tests are completed.
Additionally, our real-time-view ensures you can immediately take action to address performance issues, and optimise your capability whilst engineers are still in the field. Make adjustments, OTA update test parameters and re-run your analysis swiftly.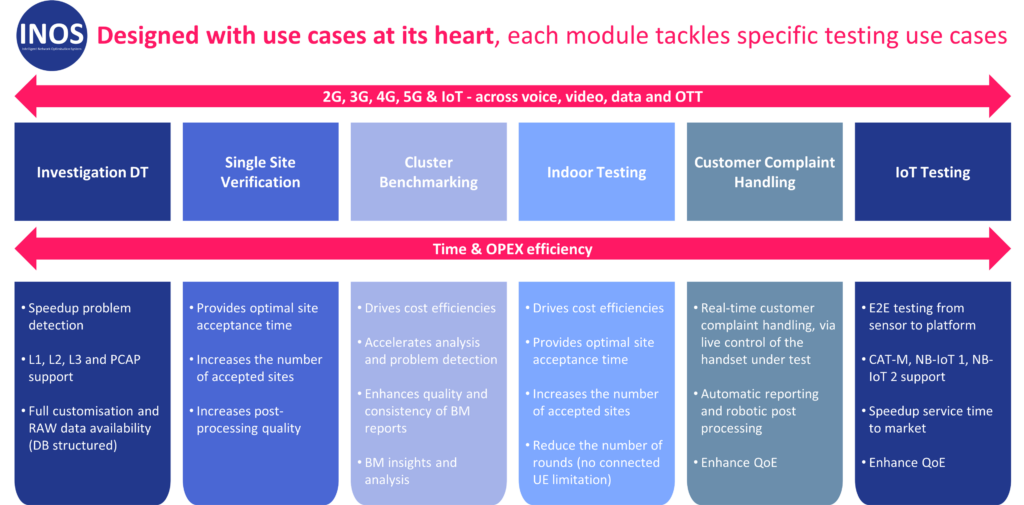 Independent telecoms network analysis and benchmarking just got smarter.
Know your strengths, and weaknesses, across all network technologies. Now more than ever, ensure you know the capability, performance, quality of experience and coverage of your voice and data networks, and that of your competitors, so that you can optimise your assets efficiently. Discover more about how INOS can help you, here.

Now more than ever, test and optimise your 5G network.
Keep up to speed with company updates, product launches and our quarterly newsletter, sign up here.
Digis Squared, independent telecoms expertise.
CSP: Communications Service Providers
INOS: Intelligent Network Optimisation Solution, one of Digis Squared's AI-led automated tools.
MNO: Mobile Network Operator
OpenRAN: via standardised radio interfaces and interoperability, hardware and software components from multiple vendors operate over network interfaces that are "open and interoperable"
QoE: Quality of Experience
QoS: Quality of Service