Digis Squared's team complete INOS migration from local on-premises deployment to first cloud-based installation enabling "Radio Testing as a Service", with Intel® Xeon® Gold 6338N Processor, in the Intel Lab.
Thanks to membership of Intel Network Builders, work undertaken in the Intel Lab has enabled the Digis Squared team to run INOS over the Intel® Xeon® Gold 6338N processor, in the first cloud-based installation of INOS. This work is the first step in our assessment of INOS as a cloud-based solution with Intel processors. Further work is planned with the Intel Lab team assessing other enhanced processors and benchmarking performance enhancement.
Yasser Elsabrouty, Digis Squared Chief Business Officer and Co-Founder said, "Thanks to Intel Network Builders and membership of Intel Winners Circle, INOS is now providing Radio Testing automation over the cloud, enabling "Radio Testing as a Service" over private or public cloud. The cognitive testing tool can seamlessly manage large amounts of data in a multi-tenant environment, providing full automation and real-time reporting."
"Delivering INOS Testing as a Service over the cloud will increase efficiency, convenience and scalability, delivering the instant capability to run thousands of radio network tests from anywhere, anytime, in combination with smart automation, real-time reports and KPI deviation alerts. Digis Squared's cognitive INOS tool just became a whole lot smarter!"
Intel® Xeon® Gold 6338N processor
3rd Generation Intel® Xeon® Scalable Processors (formerly "Ice Lake")
10nm technology, 32 cores, 64 threads, 3.6GHx max turbo frequency, full specification.
Running 25 INOS Radio Field Tests in the Intel Lab, the following enhancements were measured, and benefits observed,
1. Increased cores & threads
The Intel® Xeon® Gold 6338N processor enabled Digis Squared to setup 2 or more parallel INOS containers serving two (o more) different customer accounts. In the field, this extra capability enabled by the Intel® Xeon® Gold 6338N processor would mean that,

More copies of INOS modules can run together in parallel, providing higher processing capability
Lower response time and faster handling for APIs and web requests
Duplicating INOS running modules presents high availability

When assessing response time across all 25 tests, the results show that the Intel® Xeon® Gold 6338N easily handles the volume of data as data payload increases x2.5 over the 25 tests.
2. Max Turbo Frequency: the INOS platform receives high traffic bursts periodically, due to the nature of telecoms. The increased max turbo frequency of the Intel Xeon processor empowers INOS to handle these bursts without any probability of outage.
3. Intel® Turbo Boost Technology 2.0 Frequency: Increases the capability of INOS to receive big sudden bursts of requests, keeping stable progress and high performance (i.e. no delay on data retrieval, no delay on rendering data to maps and tables, and reduced time to prepare reports.)
4. Number of UPI links: INOS consumes a huge volume of processor capability and RAM. To optimise INOS performance, we are looking not just for capacity of the processor, but also how this processor chip interconnects with the rest of the system components. The Intel® Xeon® Gold 6338N presents better integration with various I/O devices reflecting in INOS performance, especially when handling large bursts of input data files.
5. Max memory size: For INOS, more memory means more concurrent users, more software threads running in parallel, and an increase in the number of docker containers running simultaneously. The increased max memory size indicated in this table will deliver at least three or more times the number of INOS containers when using the Intel® Xeon® Gold 6338N.
6. Intel® AES-NI & Intel® Trusted Execution Technology: INOS SW runs on sensitive client data, and this capability will save data from any corruption and violation trials.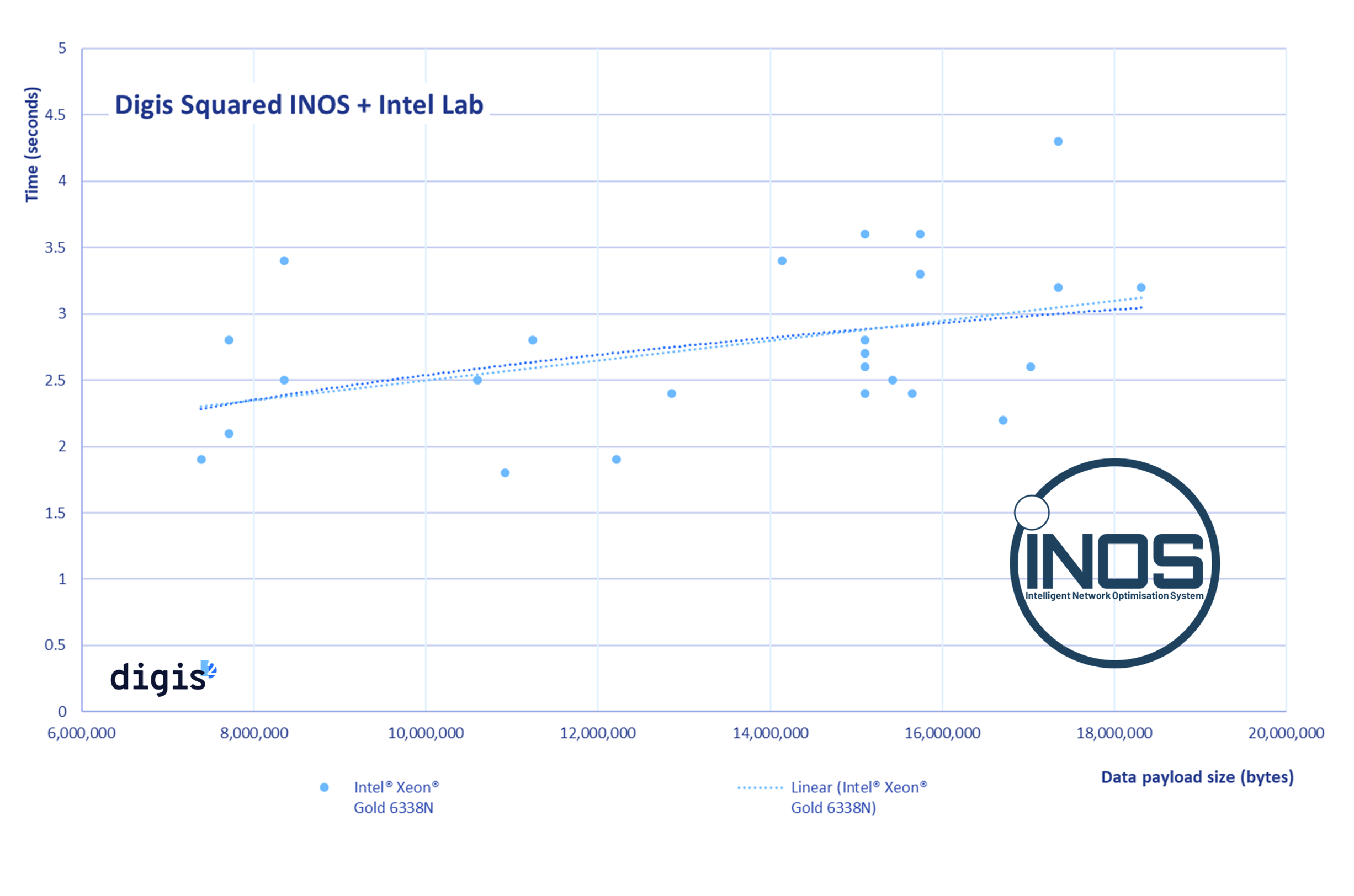 Having successfully completed this first assessment with the Intel Lab, the Digis Squared team are confident in the deployment of INOS as a cloud-based solution utilising Intel® Xeon® Gold processors, delivering optimised performance and enhanced speeds.
Yasser concluded, "Further work is planned with the Intel Lab team assessing other enhanced processors and measuring performance enhancement, and then, mutual testing with Open RAN market leaders!"
Discover more
Digis Squared, independent telecoms expertise.